Success in the World Robotic Sailing Championship 2013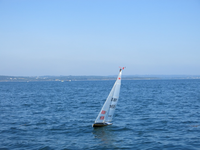 A-TIRMA in the WRSC'2013
Between September 2nd and 6th 2013, the sixth edition of the World Robotic Sailing Championship (WRSC) 2013 was celebrated in the french city of Brest where a team of our division, ROC-SIANI, has participated. This event has been developed in parallel with the International Robotic Sailing Conference (IRSC) 2013.
Division ROC-SIANI's team was integrated by our colleague Jorge Cabrera Gámez, and our Master SIANI student and Computer Science engineer, Ángel Ramos de Miguel. The team presented the paper "An Embedded Low-Power Control System for Autonomous Sailboats" at the IRSC'2013 conference, and participated on WRSC'2013 competitions, in the category of microsail for one-meter length sailboats, with A-TIRMA, a small autonomous low-consumption sailboat developed at division ROC-SIANI.
Several teams participated in the competition in different categories, and coming from different countries. Concretely, eleven teams participated coming from Germany, Finland, France, Wales, Portugal and Spain (our team). For several days in varied weather conditions, the teams had to face different navigation tests in Brest's surrounding waters. The stellar test this year, organized by the French Navy's Ecole Navale at Brest, was a navigation test carried out in the waters of the bay of Brest, where boats had to traverse a distance of four miles in a completely autonomous way.
In the end, our team got two first prizes, one of them, winning the endurance test in the Microsail category (the Ecole Navale Endurance Special Award), and the other one, managing to rank on the first place in the general classification in the same category (the Best Autonomous Microsailboat Award). Here we congrats the team for this great achievement!.
A-TIRMA is a project developed in our division which has been possible thanks to the conjoint work of several members of Division ROC-SIANI with naval engineers external to our university, and to the generous and disinterested collaboration of the Real Club Náutico de Gran Canaria.
More information and links:
News in press: